Briefcases Entrepreneurship Brief - Comfort Charity Cafe.
The aim of the brief was to choose an existing small, local business and design an advertising campaign that generates sales and in turn, raises money for a chosen partner charity. I chose to create my own small business in the form of Comfort, a charity café offering the usual café items as well as 'everybody friendly' art workshops and activities. The café would be run in a similar way to a charity shop, but offering people a meeting place, helping people in the community socialise and learn something new at
the same time.
The idea for my business is a charity art and skill share café, called Comfort. The café would generate sales through operating as a regular café but run by volunteers and charity workers like a charity shop. After overheads were paid, all profits would go to the charity. The whole brand revolves around comfort, offering a place for people to meet, learn and socialise. People like to remain in the 'comfort' of their own homes, I want people to come out of that comfort zone, and into a new one.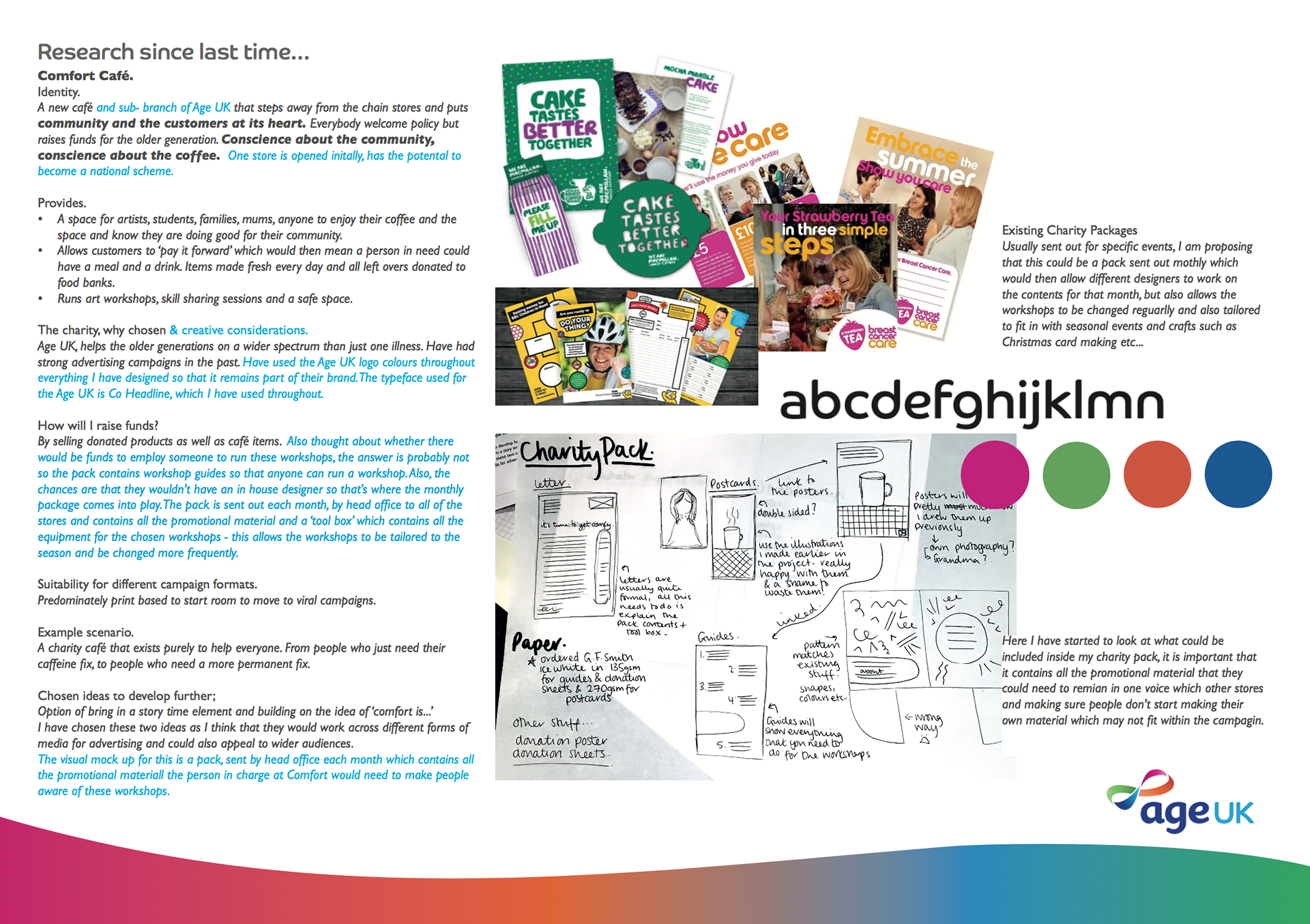 As I work in a café, I have been able to gain a better understanding of the audience and noticed that a lot of people visit on their own and mainly come to get out the house and see more friendly faces. This sparked the whole idea of creating a café that is purely for socialising and learning. Older people who spend a lot of time on their own need a way of making friends as this is one of the hardest things to do, I'm hoping that my café can help this problem.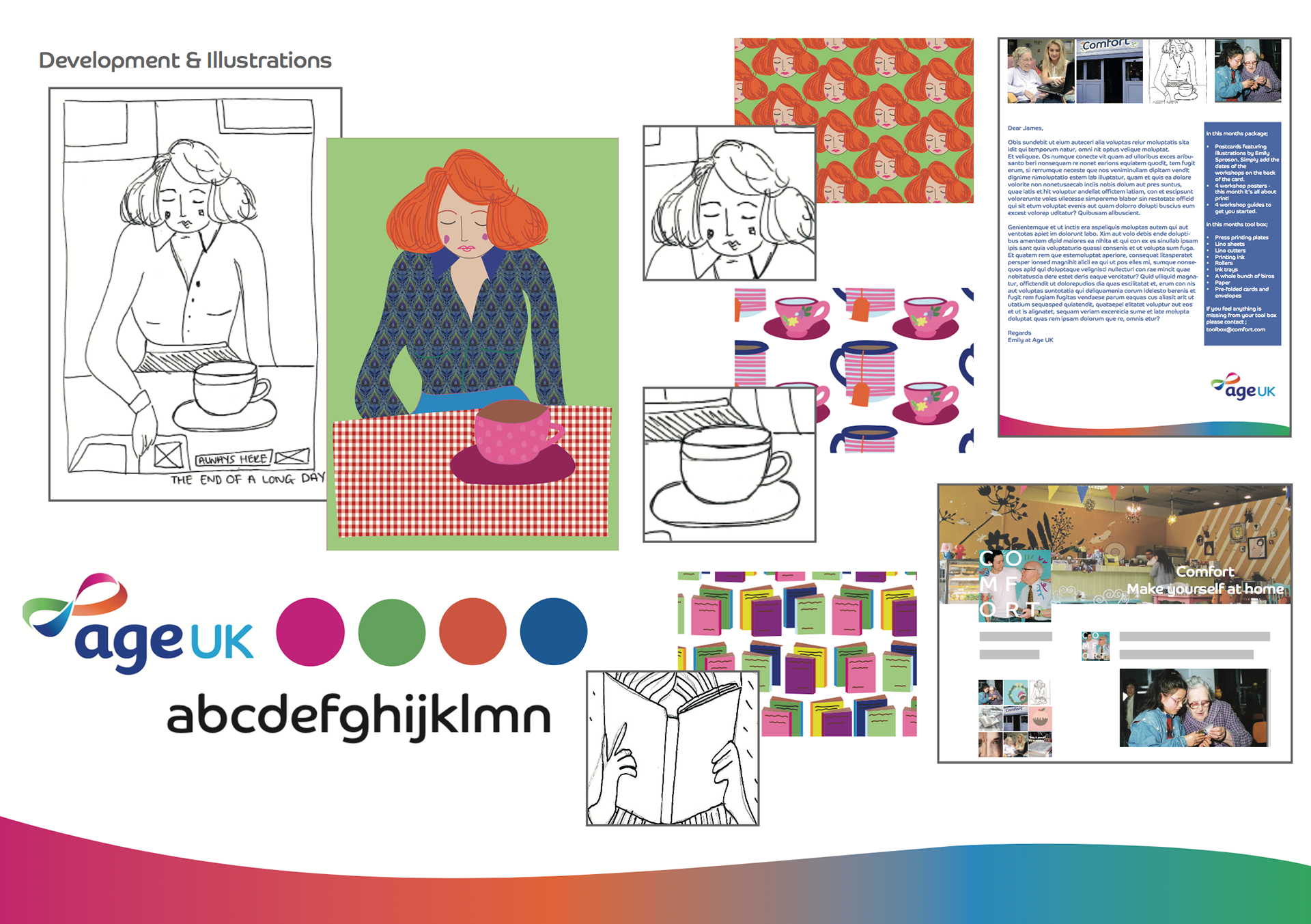 To draw more customers to my café rather than other high street options there would be a selection of different activities ranging from card making, mug painting and sewing but also encouraging people to share what they know with others with everything branded with an 'everybody welcome' policy.
Although I have chosen to partner with Age UK as the help a range of different people and aren't just targeting one aspect of later life, but I want to get more people spending time with their own grandparents, and becoming familiar with the older people in their community who may be on their own hence the 'everybody welcome' policy.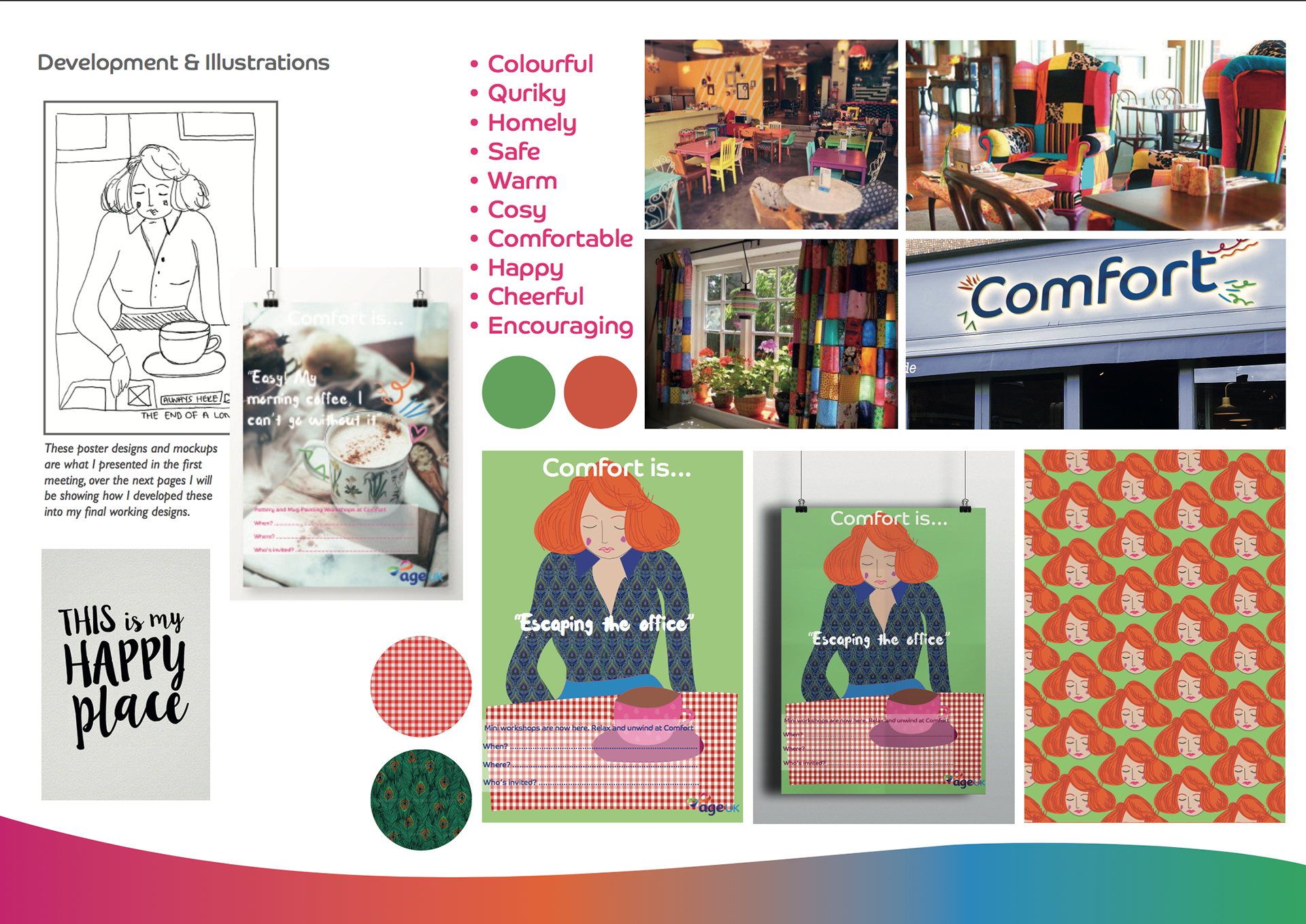 My advertising campaign works around the idea of 'comfort is…' this sentence starter is open to endings and will vary in answer from person to person. Comfort means a place away from pain and this is something that I want to convey in the posters and within the café and for everyone to know that the café is a place made for comfort.
The first designs are for posters as I think that this is the best way to broadcast that a new Age UK shop would be opening in the area, these posters could be hung in existing Age UK shops so the customers would see them and know that these activities are taking place at their new store.
Within the designs I wanted to create a warmer and more youthful feeling, after looking at existing Age UK imagery it was very dark and didn't use a lot of colour, something that I wanted to stray away from, the imagery in existing adverts is mainly older people so I have chosen to use other imagery to aim this campaign at everyone. I have also used the same typeface as Age UK use within their logo (what I believe to be Co Headline) as this carries their branding through into the designs but I have chosen to pair it with a handwritten typeface to create a personal feeling within the poster designs so it seems the person who has said what comfort is has written it.

Like every new business, this idea would have to have a starting town, but could be rolled out nationally if the first store was a success, each time a new store opened, these posters could be hung in Age UK shops in that area as well as other supporting businesses. The option to expand this advertising campaign could be viral with the use of the '#comfortis' hashtag that could get people talking and sharing what they have learnt.